Problem: Patient unhappy with her yellow missaligned teeth
Solution: Dental Porcelain Veneer
"your Smile is your Style"
PATIENT BEFORE VENEERS PATIENT AFTER VENEERS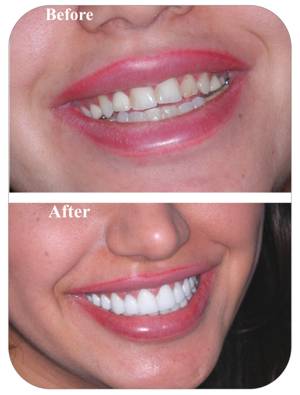 periodontal disease , periodontal , periodontists , periodontal treatment , periodontal surgery , gum disease , gum, disease treatment , perio , scaling and root planing , periodontal dentistry , root planing , periodontist office , periodontist treatment , porcelain veneers , dental veneers , teeth veneers , cost of veneers , veneers for teeth , teeth, whitening , teeth cleaning
Dr Haber treats root canals, provide root canal retreatment and apicoectomy. Root canal
Santa Monica Periodontist, Gum Specialist Periodontist Receding gums gum depigentation, gum surgery gummy smile treatment and gum grafting by our santamonica dentist. Gum infectionS require gum treatment and possible surgery When a receding gum line is left untreated, periodontal disease and bone is lost. To stop gum recession , bone loss, and to prevent further dental problems, gum treatment, Scaling and root planing, gingival graft, and osseous surgery may be required. (treatments that are also available:Gum lift, Gingivectomy, gum bleaching, Gum
Santa Monica Scaling and root planing for gum disease, gum treatment, deep cleaning: Scaling and root planing is one of the most effective ways to treat gum disease before it becomes severe. Root planing and scaling (deep cleaning) cleans the pockets, the spaces between the gum and the tooth root surface.
Santa Monica Pedodontist, Chidren Dentistry, Pediatric DentistryChildren can get tooth decay, caries, at a younger age; caries on the primary and permanent teeth. But the good news are that dental caries are preventable. Your children must see the dentist twice a year for teeth cleaning . Santa Monica Teeth Whitening Get Whiter Teeth!...Dr. Haber can help you achieve whiter teeth and a better smile .
Santa Monica teeth bleaching , laser whitening